Que tiemble Inglaterra con el retumbar del eco generado por las voces agudas de PJ Harvey, que tiemble con el ritmo del autoharp que agita sin cesar los cimientos de una sociedad en pleno acto de autodevoración. Harvey presenta en su álbum "Let England Shake" (2011) una lectura crítica de la sociedad inglesa, pero, sobre todo, explora la memoria de una sociedad beligerante que hace al ayer hoy y mañana. Navegando la memoria de la guerra con continuas alusiones a eventos bélicos como Bolton's Ridge (
"All and Everyone"
), la cantautora nos recuerda la oscuridad de la cual nacimos.
Polly Jean Harvey.
"The West's asleep. Let England shake, / weighted down with silent dead. / I fear our blood won't rise again". Esas son las líneas con las que abre la canción que le provee el título a un disco en el que la memoria del fracaso se configura en fugas continuas. La frágil voz de Harvey vibra sobre un horizonte que yace en la distancia mientras el ocaso pinta en el cielo una batalla de hogueras. Los cuerpos de los ingleses (¿o serán más bien los de tod@s?) se acumulan en el lomo de una sociedad que aspira a que sus ciudadanos olviden la sangre y gocen bañándose en la fuente de la muerte, riendo a carcajadas. "Smile, smile Bobby, with your lovely mouth. / Pack up your troubles, let's head out / to the fountain of death / and splash about, swim back and forth, / and laugh about". Inglaterra y la sociedad occidental son, después de todo, proyectos de muerte y olvido, oscilaciones entre nuestros labios arqueados y un baño de sangre.
Explorando el pasado imperial inglés, la cantautora subraya la fragilidad de lo que anteriormente se pensaba como la gloria. Harvey reconfigura, en "All and Everyone", la heroicidad de esos soldados de la "Gran Guerra" como la expresión de una nueva hambre de muerte. Haciendo una alusión a la batalla de Bolton's Ridge en Turquía durante la Primera Guerra Mundial, nos recuerda que
"As we advanced into the sun, / death was all and everyone". Más que figurar al evento como el destello del heroísmo, ella lo identifica con la luz de un sol que irradia la muerte y la destrucción, la vocación por eliminar al otro y eliminarnos en el proceso. "Death was in the staring sun," continúa su garganta al ritmo de una percusión impulsiva, "fixing its eyes on everyone". El juego de palabras con "sun" (sol e hijo) apunta a la manera en que los hijos de esos soldados de la Campaña de Galípoli miraban directamente todo y se transfiguraban, como sus padres, en la muerte misma, devoradores de la vida. La luz del sol se torna, así, brillantez y oscuridad, vida y muerte, memoria y olvido.
En "On Battleship Hill", otra alusión a Galípoli, el trémolo de las guitarras arma el fondo para una voz herida que canta en falseto, "[t]he scent of Thyme carried on the wind, / stings your face into remembering / cruel nature has won again". No podemos escapar el pasado, estamos continuamente atravesados por su olor o la pestilencia que el viento transporta para toparnos con la terrible realización de que nuestra cruel naturaleza ha triunfado. En el juego continuo entre los sentidos, Harvey insiste en la experiencia de la oscuridad y la maldad que fue el imperio, en que sintamos esa memoria. Después de todo, su presentación es un proyecto musical que reinterpreta la sutileza lírica y sonora que caracterizó "White Chalk" (2007) a partir de una agresividad comedida.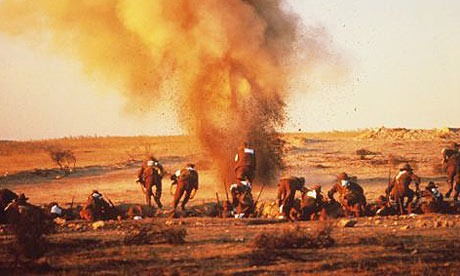 No hay reivindicaciones del heroísmo en "Let England Shake", sino la confrontación con una memoria voraz que pocas veces recordamos o reconocemos. PJ Harvey no pretende extirpar la oscuridad que la constituye, más bien explora la crueldad que nos produjo y que perpetuamos. Al fin y al cabo, ella cierra su canción
"England"
diciendo "To you, England, I cling / Undaunted, never failing love for you, / England".